April 3, 2020
Alert! IRCTC Online ticket booking was never stopped! Book now, says Railways tweet
Alert! IRCTC Online ticket booking was never stopped! Book now, says Railways tweet
IRCTC Online ticket booking: Here is a big Railway alert for those who travel on Indian Railways trains! The reservation for journeys post 14 April was never stopped and people can book tickets anytime. The Ministry of Railways today clarified in a tweet that "the booking of reserved train ticket never stopped except for the lockdown period i.e. 24 March and 14 April".
The clarification came after several media reports suggeted that the reservation for journeys post 14th April has resumed.
See the Full Clarification Here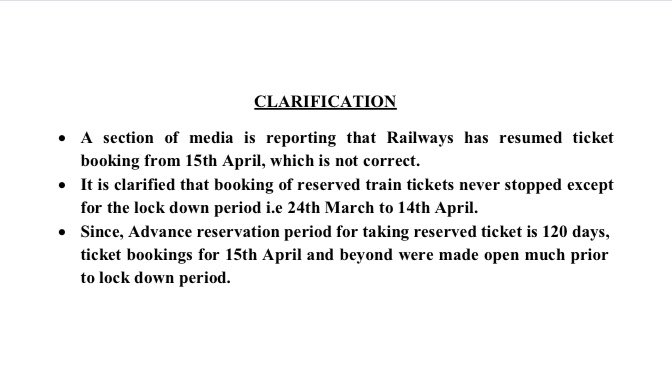 Many people who have returned to their homes during the complete lockdown and are eager to get back to business can start booking their train tickets as and when they want. Those of you, who could not book ticket thinking that the online ticket booking services were suspended can do this now. The Government has given no indications till now to extend the nationwide lockdown beyond 14 April and therefore, likelihood of extension of is very low. So, if you are planning to get back to work, you can book tickets through the IRCTC website.
Book your train tickets online
The rising coronavirus pandemic in the country forced the government to take some tough measures including announcement of 21-day lockdown period. The Indian Railways had cancelled all train travels till 14 April. The ticket booking facility post 14 April was still in place as per the statement made by the railway ministry. So there was never any issue regarding booking of tickets from 15 April. Goahead and do it now through the IRCTC website in case you could not book.
Train tickets already showing waiting status
IRCTC website has been having a high traffic since the train ticket bookings have resumed. Many trains including Goa-Pratapgarh Express have started showing a long waiting list. You can still find seats in many trains.
No indication to extend the lockdown
Cabinet Secretary Rajiv Gauba has recently clarified that the government has no intentions to increase the lockdown period. The railways has allowed people to book tickets online from 15 April onward.
PRO's message
Public Relations officer (PRO) of Bhopal Central Railway has said that everybody was working as per the instructions of the government. He also said that there is no connection between the resumption of train ticket booking and resumption of train services. The decision to resume train services rests with the Railway Board. If the situation improves, the board will resume train services.
Train services to resume only after government instructions
After Prime Minister Narendra Modi's announcement of a nationwide lockdown, services of all trains, metros and buses have stopped. All the services will remain suspended till 14 April. The services will start only after government gives its goahead. Initially, the services were suspended till 22 March. Only, freight trains are running.
Source:- zeebiz
Share: